Design Studio: CubeServ offers commentary solution
Meaningful visualizations are important! But, however, messages and commentaries of the figures are also of high importance for understanding the company's current situation. Our partner CubeServ now provides a commentary solution for Design Studio.
SAP BusinessObjects Design Studio is the successor product for the SAP BEx Web Application Designer (WAD). For SAP BW-users it can be seen as an alternative to SAP BusinessObjects Dashboards (Xcelsius). In my opinion, Design Studio and Dashboards provide a complementary not a competing offer. Fortunately, this is supported by the license policy of SAP: Licenses already acquired for Dashboards also include the license for Design Studio. This also applies for the graphomate developer licenses!
Design Studio will be released in November, in the release version 1.2. According to the DSAG, and as I see it, too, the version 1.2 is an adequate substitute for BEx WAD. Design Studio version 1.2 is supplied with a development environment – a Software Development Kit (SDK) – which allows partners to create their own developments.
graphomate played a decisive role in the development of this SDK, thus we can offer our addon graphomate charts for the depiction of "Hichert"-charts in Design Studio instantly with the general availability of Design Studio 1.2.
Another often mentioned customers' requirement for BI-frontends is the desire for commentary options. Our partner CubeServ used the SDK for Design Studio to fill this gap and offers a commentary solution: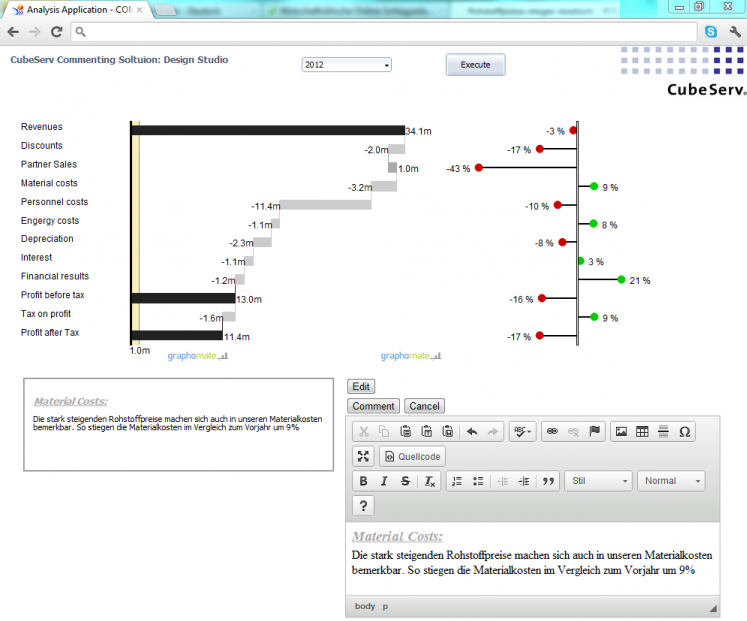 Using a new component for Design Studio, it is possible to gather and present commentaries within a dashboard. An intuitive editor helps to write and format commentaries very easily and fast – just as you are used to with standard word processing programs. With this component you can expand your dashboards with a flexible and universally usable commentary solution. If interested, please contact our partner at CubeServ.
Regards,
_

This file is licenced under the Creative Commons-Licence.