What's new? – graphomate suite Release 2021.2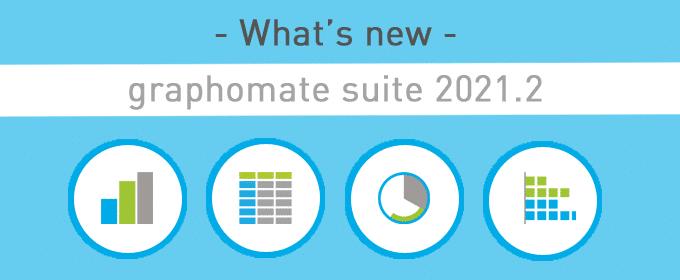 In this blog post, we would like to present to you our new and exciting features of the graphomate charts and the graphomate matrix. You can find the complete changelog for our release 2021.2 here. By the way: since January of this year or graphomate charts, matrix and bubbles are IBCS recertified. (Okay, our graphomate matrix is a brand new component which was certified for the first time).
Our brand new release is available for SAP Analytics Cloud, SAP Lumira Designer, Microsoft Power BI and Tableau. But wait our graphomate charts and matrix can be used in combination with SAPUI5 also. For Power BI you can get the latest version directly from the AppSource.
Besides the numerous new features, the graphomate property sheet (GPS) got some improvements. For example the look-and-feel was optimised as well as the search function for properties:
Our graphomate extensions integrate seamlessly with SAP Lumira Designer and SAP Analytics Cloud. Via scripting methods all of our properties can be read and set. Therefore visuals in dashboards and applications adapt dynamically.
graphomate charts 2021.2
Oldie – but Goldie: The graphomate charts – our first component from 2011 – are still growing steadily in their range of functions. This also applies to this release:
Small Multiples
Within a graphomate chart component you're now able to display so-called 'small multiples (trellis)'. The formatting (e. g. scenarios) and deviations will show up in every small chart. No further adjustments are necessary. You can choose by which dimension the charts will be "drilled down".
Top N
You want to know who performs the best at a glance? With the functionality 'Top N + Rest' you're able to specify how many top members you want to display and summarize the remaining.
Template Gallery in Power BI
Every beginning is hard: In Microsoft Power BI we support you with a pre-selection of templates for the graphomate charts. At the beginning, choose a template from 6 different designs and then link the data. With a few clicks you are able to create your first graphomate chart.
Scrollbar
The large amount of data makes your chart difficult to read? We have solved this problem and add a scroll bar to a graphomate chart as soon as minimum sizes are exceeded. This mechanism works horizontally as well as vertically in a chart.
graphomate matrix 2021.2
The graphomate matrix fulfills almost all wishes for the representation of data in a tabular manner. With this release we present two new features:
Background Bars
Tables are known to represent values numerically. With the use of background bars, you can visually support the viewer to better classify values and value ranges. For example, different hierarchy levels can be given an independent scale and can also be individually formatted.
Sorting
Get rid of fixed column arrangements in your table and define the order of your columns by yourself. This also applies to newly calculated columns with the graphomate matrix.
In addition, the matrix offers the possibility to sort the data within a column. Select the desired column and click on the arrow symbol. Now the values of the column are sorted in descending or ascending order. The sorting of the hierarchy nodes is adjusted accordingly.
As you can see, a lot has happened with our components. Take your time to test them. If you have any questions about the features, just contact us via mail info@graphomate.com or us our support desk.
Best regards,
Stefanie
This file is licenced under the Creative Commons-Licence.