Available graphomate products for SAP Web Intelligence
SAP BusinessObjects Web Intelligence (WebI) is one of the most popular SAP front end tools in the on-premise environment. There are a number of reasons, including:
fast and easy reporting via a web interface
scheduled and parameterised distribution of reports
generic data source connection
and our graphomate tables
Fully integrated: graphomate for Web Intelligence
Our customer´s constant demand for the mapping of IBCS-compliant charts (International Business Communication Standards) in WebI led to the release of graphomate charts and graphomate tables in 2017 for this SAP front end tool.
To improve the display of charts with two value axes we decided to publish graphomate bubbles for Web Intelligence as well. Thereby, a portfolio display is now possible with just a few clicks.
graphomate extensions can be inserted as a custom element in a WebI report. Just like standard visualization elements our extensions support the use of variables, reactions to input controls and the reuse as a "shared element".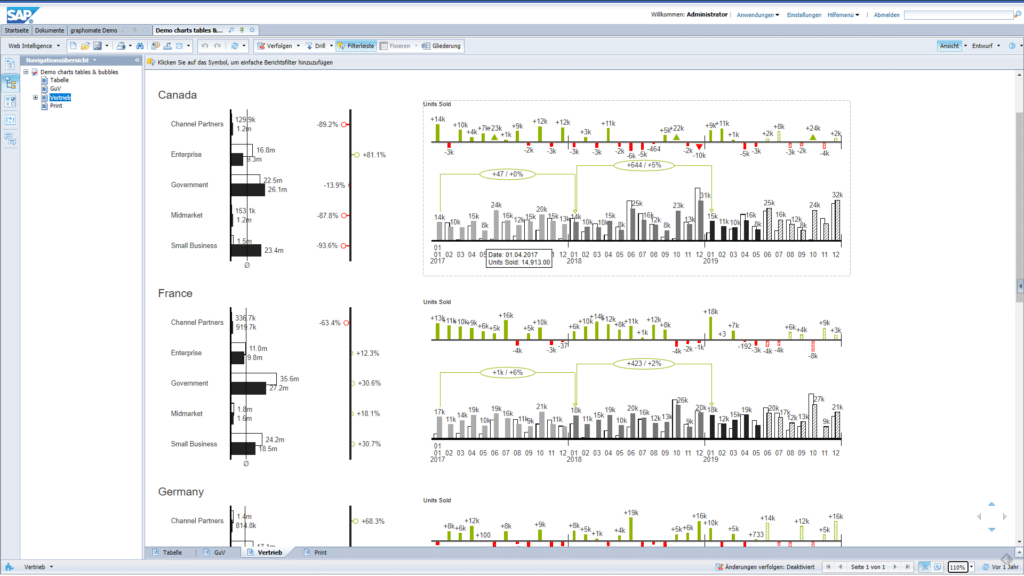 Also great: Visualizations of our graphomate extensions can also be exported into a PDF. In addition, the graphics created with graphomate extensions can be read by screen readers and thus support the accessibility (barrier-free) of WebI – an important aspect.
Good to know
Data is connected via so-called universes among other types of data sources. Universes are metadata layers which provide data links and identifiers. These identifiers exist to make the data comprehensible to the recipients of reports. The original data is stored in the original systems and is only retrieved when required.
Data from different sources (for example SAP Business Warehouse, SAP HANA, OLAP, relational databases, BEx queries) can easily be linked and analysed with WebI. It is inconsequential for end users where the data is located as queries and calculations can be triggered directly via SQL. The results are visualised in reports using the tool's on-board means.
The distribution of the results can be implemented in several ways: via email, as a PDF on the Business Intelligence Platform (BIP) or as an Excel file. The combination of dedicated role and rights management in SAP systems and the use of parameters in the reports themselves justify the use of the tool for the transmission of scheduled reports (such as monthly or quarterly reports).
Long awaited: SAP BusinessObjects BI 4.3
With the release of Business Intelligence Platform 4.3, SAP demonstrates that it is also driving forward its product portfolio in the on-premise world. As support is guaranteed until 2027, we continue to recommend the use of SAP BO Web Intelligence. The use of a hybrid solution in connection with the SAP Analytics Cloud is conceivable as well. Thereby various WebI reports can serve as a data source for new (WebI) reports. This scenario is called "Web Intelligence as a Source". In addition, the new user interface will align with the SAP Fiori design paradigm and replace the "retro" design.
Useful functions of SAP BusinessObjects Web Intelligence at a glance:
quick and easy report generation
dedicated distribution of reports
access via web interface
generic data source connection
no programming knowledge required
Web Intelligence is the "Swiss army knife" of SAP BI tools. It has a large group of followers and we support its (as well as the SAP Lumira Designer´s) further development and maintenance.